Application Process
We are always interested in learning about other organizations' work in New Orleans and how we can be of assistance through design and planning services. We work closely with our partner organizations to develop custom projects to serve their specific needs. Our staff reviews project proposals throughout the year, however, the annual Request for Proposals (RFP) is the primary submission process for accessing our services.
Application Process
Request For Proposals 2020 Deadlines
Application Period will be announced in March 2020. Application Period will close April 30, 2020. Selected Projects will be announced in August 2020.
About the Request for Proposals (RFP)
Each Spring, Small Center invites proposals from New Orleans nonprofit and community-based organizations for pro-bono design and planning services. Proposals must be for a specific project (i.e. not for ongoing design services for the organization), and the project must address a stated need that exists in the New Orleans area. Thanks to a gift from Johnson Controls, Inc., the RFP offers an opportunity for groups to propose projects focusing on design visioning and design/build projects. A jury reviews and ranks all proposals based on our mission and our capacity. We prioritize collaborative design projects that foreground equitable approaches to addressing race, gender, and class disparities.
Do You Qualify for the Program?
If you are a New Orleans based nonprofit organization (or operate under the fiscal sponsorship of a nonprofit organization), and you have a specific project for which you need design and planning services, then you qualify for this program. Small Center has worked with both large, established nonprofits and small, less formal community organizations, and we welcome proposals from groups at either end of the scale.
Services Provided to Selected Organizations
In working with numerous community-based organizations, we see our partner organizations consistently thinking big to overcome complex challenges. We also understand the significant budget limitations that most nonprofits face daily. Often a great idea benefits from professional services that can help to define the project and attract funding and support needed to execute a built project. This program exists to fill that gap and ensure each group is prepared to realize their visions.
Our Process
Small Center has tackled a wide variety of architectural visioning, planning and design/build projects with dynamic community partners. Small Center will work with applicants to determine which services will best advance their project:
Visioning / Planning
This service supports projects typically larger in scale and with multi-year visions for implementation, from mapping public transportation routes to developing designs and strategies for renovating a nonprofit headquarters. Students and staff will work with the organization to define the project's goals, create designs, and provide project documentation and booklets. These booklets generally include cost estimates and preliminary designs to help promote the project for development funding, and provide a baseline for the partner to work with an architect and developer going forward. Due to the variety of project scales, we will work with the selected organization to establish a timeline tailored to the specific project.
Design / Build
This service supports projects typically smaller in scale, and range from a shaded outdoor classroom to a bookstore renovation. Design/build projects must be structured within the timeframe of the 16-week academic semester (Fall or Spring). During the semester, students will be guided through 4-5 weeks of design, during which participation and feedback from the partners will be critically important. Once designs are complete, students will construct the project throughout the semester's remaining 7-8 weeks.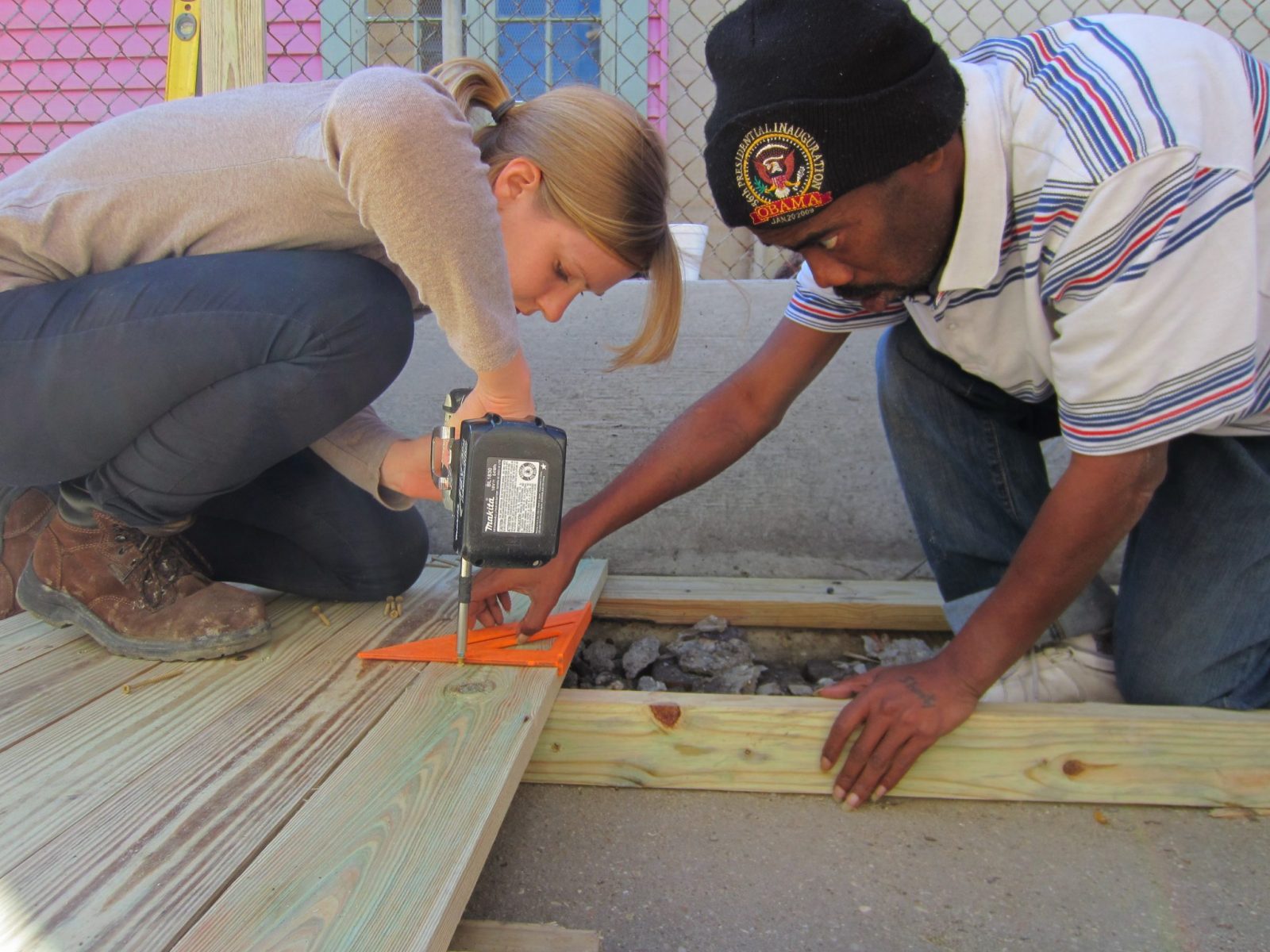 Typical Project Timeline
01. Research
Our Small Center team will have multiple meetings with the organization to learn more about their project, and conduct visits to the proposed site. We will research the  appropriate building codes and zoning ordinances, and become familiar with examples of similar projects.
02. Visioning and Design
The design and planning process will involve a series of proposals from Small Center's student and staff design team, incorporating your feedback until we have accurately captured your project aspirations.
03. Finalize Design
Together we will select the best design scheme, develop it in detail, provide basic cost estimates, and try to set the project up for success in future phases.
04A. Visioning / Planning
When a design and development scheme has been finalized, we will incorporate the work into a single document, both printed and digital, for ongoing promotion and fundraising purposes.
04B. Design / Build
For projects that will be built by Small Center staff and students, the final product will be the constructed project.
Not Sure Where Your Project Fits In?
Submit your project idea here, or email us a couple paragraphs of what you're thinking about at baronne@tulane.edu. You can also call the office at 504-314-2330 to set up a time to talk to a staff member about our application process. Note that we are a small staff and our work is supported through grants and donor gifts. With enough lead time, we can work with your organization to pursue technical assistance funds for a project and identify other resources to meet your needs.